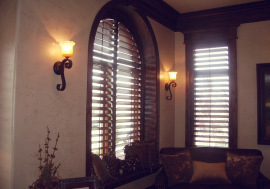 We provide the lowest priced, easy to install, beautiful custom shutters to thousands of satisfied customers.
They are the highest quality window treatment on the market that offers protection, decrease energy costs, add value and gives you opportunities to create beautiful, relaxing environments that can increase the quality of your life. Utah Custom Shutters help control your home's energy costs by reflecting heat away in the summer and maintaining heat in the winter. We have created a reputable dependable company that offers prompt service and complete satisfaction. Our company is family owned and operated, giving you the highest quality products and unsurpassed integrity. Our design team will help you create any custom look to match the style you are looking for. We have a large selection of different types of wood to choose from that are durable and long lasting. Let our amazing staff make your experience the best it can be by utilizing their knowledge to help you find just what your looking for.
The popular MDF (Medium Density Fiberboard), our most affordable shutter, produces an almost piano-like finish with the same function and quality as the basswood. Our traditional basswood shutters enhance the wood grain with any kind of finish technique. We provide furniture quality solid wood interior shutters that can increase the quality of your life. We take pride in providing leading edge technological advancements and being a reputable company that has the highest quality standards. We want you to be knowledgeable about your custom shutter purchase and other products that will accommodate your window covering needs. We can provide you with all your Utah Custom Shutters needs and wants, your dreams are our reality.
Why Choose Utah Custom Shutters For Your Home?
We have the ability to create and design custom shutters built to your specifications. We have unique product lines that enhance and coordinate with any décor. Local and wholesale shutter companies allow us to provide you with many affordable choices that meet any type of budget. No matter where you're located our team can assist you in ordering and selecting types of window coverings without having to spend too much time, allowing our expertise and knowledge to do the work.
We service Salt Lake City Utah and surrounding areas such as Provo, Park City and Ogden and many others. With local products available you save not only time but costly overhead shipping. The possibilities are endless and the product selection is incredible with only the finest hardwoods used to manufacture custom window shutters. Contact us today for all your Utah Custom Shutters wants and desires. We hope you will allow our exceptional staff to show you just what we are made of.