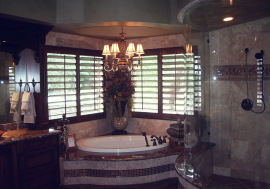 Real wood shutters are a classic window covering choice that remains among the most desired, decade after decade. The environments they help create and the elegance they add to any home are unparalleled. We take pride in offering only the finest quality products for long lasting durability. Our local manufacturing facility allows us to provide you with many affordable choices and unique products that enhance and coordinate with any décor. Shutters help control your home's energy costs by reflecting heat away in the summer and maintaining heat in the winter, as well as offer protection from dangerous UV rays. Shutters add to the resale value of your home and become an attractive part of your personal space.
We utilize leading edge technological advancements to maintain the highest quality standards, while keeping labor costs to a minimum. We provide furniture quality solid wood interior shutters that can increase the quality of your life. We are family owned and committed to providing your complete satisfaction. Leaving you knowing you made the best possible choice, is our top priority. Our professional, knowledgeable staff is here to support you through every step of the process. From start to finish, we strive to make your experience the best it can be. We value your opinions and feedback.
Interior Window Shutters Are a Great Way to Add Character
Our team of shutter experts can help you design and create custom shutters that not only enhance beauty but transform a room into a work of art, make a cozy comfortable atmosphere or add dynamics to space. Shutters have the ability to increase the value of your property while providing your family with much needed protection. Our Shutters are manufactured from only the highest quality products and are sure to be just what you're looking for.
Contact our friendly helpful staff that will be happy to assist you in making your purchase meet your expectations, needs and dreams. The possibilities are endless and the product selection is incredible with only the finest materials used to manufacture your shutters. We service Salt Lake City Utah and surrounding areas such as Provo, Park City, Ogden and many others. With local products available you save not only time, but also on costly shipping. We want to be your first choice for all your shutter needs.